Toongabbie (Victoria) Fire Brigade is situated on Main Street in Toongabbie. It has a two bay engine room which houses a 3.4D tanker as well as a new large meeting/ training room, kitchen, toilets and office areas.   
Toongabbie Fire Brigade has 60 members; of these 20 are active fire-fighters.
Toongabbie is in the West and South Gippsland Total Fire Ban District.  Please register any burn-offs via one of the methods detailed on the CFA website.  The CFA website also has great information to help you plan and prepare, as does the Emergency Preparedness page on this site.  
Follow the Toongabbie Fire Brigade on Facebook @toongabbiefirebrigade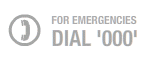 Seniors
The Senior brigade meets every third Monday of the month at 7.30pm in the meeting room.
New members are always welcome.
Contact: Scott Mitchell
Mobile:  0411 296 161
Email: sbm80@wideband.net.au
Please use the menu in the header to navigate the website to find what you need, or search the site. Alternatively feel free to contact us!