Toongabbie & District Riders Club
A Safe and Happy Place to Learn to Ride
The Riders Club has been together for over 30 years and still caters for a wide variety of rides and activities.  Back in 1979 a small group of riders met quite regularly at Eddie Lansdown's home along River Road and would set out for a leisurely Sunday Ride, heading off into the nearby area and covering quite a few kms in a couple of  short hours.  These rides became quite popular and before long most of the horsey community of Toongabbie were coming along for a social ride and realized it was a great way to enjoy their horses, friends and the local countryside.
It was not long before it was decided that the club should be named and to make it a regular advertised get together.  A cook was elected for the day and they would bring along a small BBQ and set up a lunch spot where the riders would meet, have a great lunch and cuppa and set off home again. So Toongabbie and District Riders Club were established. 
Some of those early members were Eddie and Irene Lansdown and family, Phil Henderson and family, Vicki and Dave Smith, who are all still members today.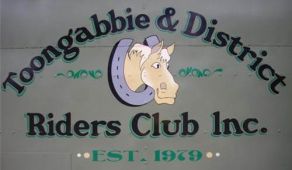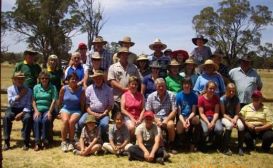 The club has grown from a small group into a membership of up to 70 members.
The club is now incorporated and affiliated with ATHRA – Australian Trail Horse Riders Association. Visit the ATHRA website for more information, activities and member fees.
The club was interested in having a fun day with novelties such as; bending race, flag and barrel, sack race, tyre race and the great spectator event, the rescue race and rope race.
The members were able to rent 10 acres joining the Recreation Reserve in Heywood Street, where a shed and an activities area were built.
Also, a Chuck Wagon was bought to house the bbq and lunch making facilities. The club grounds now house a bigger shed with facilities such as- brick toilets, bbq area, and fenced areas for parking and riding.  Just recently, the Pony Club have also joined the grounds and a new entry and front fence was erected with thanks from a grant made available through the Latrobe City.
Some of the horse activities that utilize the grounds today are – Pony Club, Adult Riders Club, locally organized Endurance Rides, annual novelty day, Thomson Valley Bush Riders Annual SIDS Kids Ride, dressage events and gymkhanas.
Club rides are on the first Sunday of the month except January and include trail rides to surrounding areas of the high country, beaches and lake areas.
Meetings are held at the Recreation Reserve meeting room starting at 8pm on the third Tuesday evening of the month.  
Riders must become members of ATHRA and there is a membership fee as well.  There is a small ride fee payable on the day of the ride and members are sent a monthly newsletter via email or snail mail listing all up and coming events and information.
For any information on the club and its activities then please phone: Dave Smith 51489344 
Please use the menu in the header to navigate the website to find what you need, or search the site. Alternatively feel free to contact us!